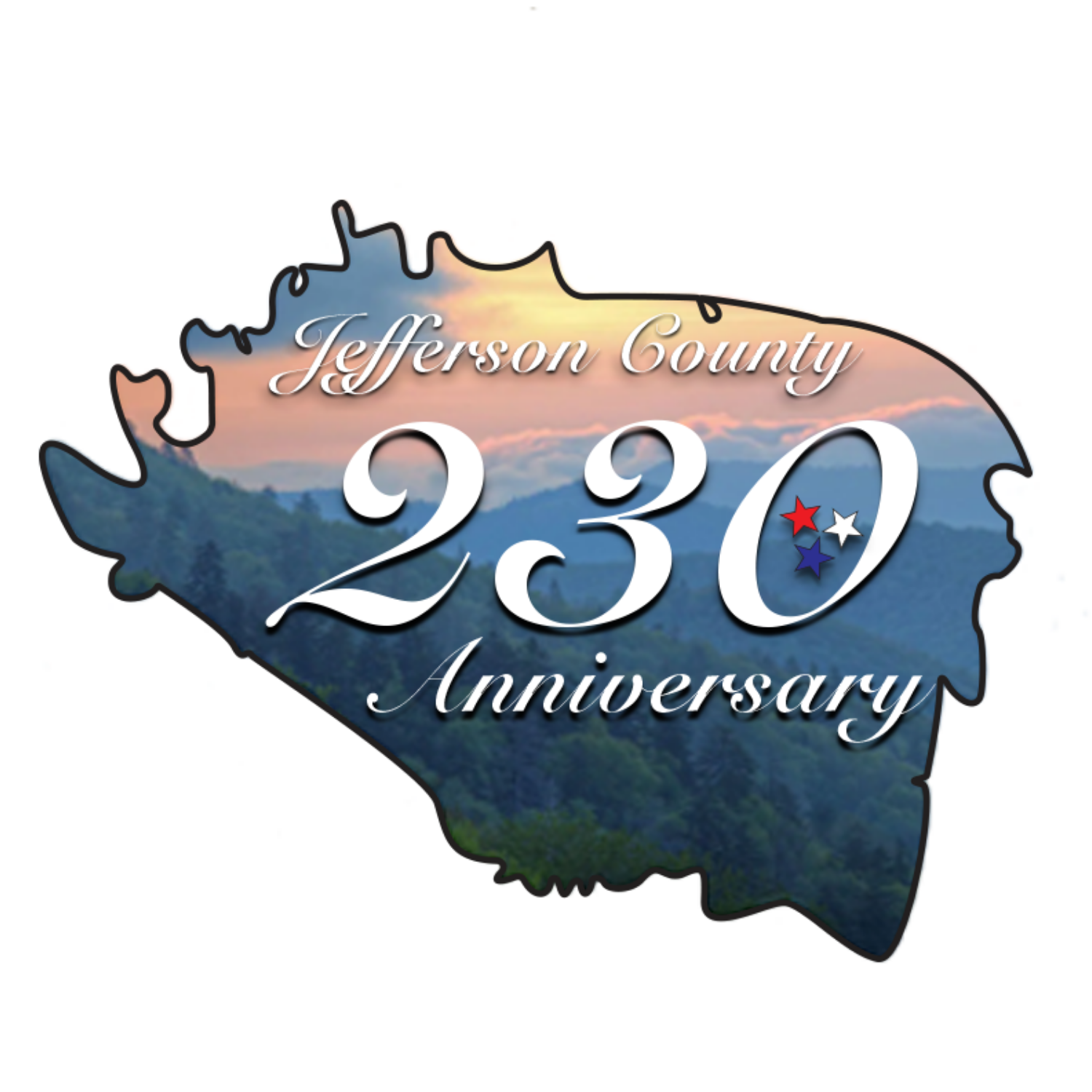 On June 11th, 1792, Governor William Blount, by ordinance, formed Jefferson County, originally a part of North Carolina.
Jefferson County became a part of the State of Tennessee in 1796, and three other counties have since been formed out of the original land of Jefferson County. 
On July 23, 1792, the first County Court of Jefferson County was organized at the home of Jeremiah Mathews, and the county court selected a distinguished committee to locate a county seat which was later named Dandridge in honor of President George Washington's wife.
Celebrate Your Jefferson County
Our Cities, Towns and Communities- Jefferson County is comprised of five incorporated towns and cities and has nine active unincorporated communities. 
Dandridge
Jefferson City (Mossy Creek)
White Pine (Dandridge Crossing)
New Market
Baneberry
Talbott
Strawberry Plains
Piedmont (Mount's Crossroads)
Swannsylvania
Chestnut Hill
Parrotts Chapel
Oak Grove
Shady Grove
Mount Horeb 
The preservation of Jefferson County's history has always been utmost in the minds of its citizens. Several organizations have been formed over the years in order to research, maintain and serve future generations.
Be a part of the story!
The 230 Year Celebration Committee has partnered with Jefferson City and the Mossy Creek Station Festival, October 1, 2022. A large exhibit of  230 Years of history will be on display at the event. Fill out the form to submit your community and help us tell the story of Jefferson County's history.
Space is limited and not guaranteed. You will be notified by the Jefferson County Mayor's Office if your display has been approved. Exhibitors will need to set up their displays no later than 8:00 AM, October 1, 2022.  More information on location of exhibit will be provided upon approval.
A Brief Look Into Our History
1783
Dandridge Permanently Settled
1786
Adam Meek Settles in Strawberry Plains
1788
Adam Peck Settles in Mossy Creek
1792
Founding of Jefferson County
1794
Sevier County Formed Out of Jefferson County
1796 – 1811
Davy Crockett Lives in Jefferson County
1797
Cocke County Formed Out of Jefferson County
Dumplin Baptist Church organized by John Cate, Sr.
1804
Samuel McSpadden, a.k.a Gunpowder Sam, home built in Shady Grove
1806
Davy Crockett & Polly Finley Marry at Finley Homeplace
1819
New Market Begins as Tucker Town
1829
Oak Grove Founded
1834
Piedmont Founded as Mount's Crossroads by John Mount
1845
Jefferson County Courthouse Built
1851
Carson-Newman University Founded
1863
Talbott Station Established
December 29th – Battle of Mossy Creek
1864
January 16th & 17th – Battle of Dandridge
1869
Glenmore Mansion Completed in Mossy Creek (Jefferson City)
1870
Southern-half of Hamblen County Formed from Jefferson County
1872
White Pine, Formerly Dandridge Crossing, Established
1901
Jefferson City Founded
1908
Bush Brothers & Company Founded in Chestnut Hill
1911
New Market Incorporated
Frances Hodgson Burnett writes The Secret Garden while living in New Market
1914
For the First Time, Homes in the Area Receive Electricity
1940 – 1941
TVA Constructs Cherokee Dam, Completed on December 5, 1941
1942 – 1943
TVA Constructs Douglas Dam, Completed In Just Over a Year Establishing a World Record for a Project of Its Size
1966
Maury High School Girls Basketball Wins State Championship
1975
Jefferson County High School Opens Its Doors to Students