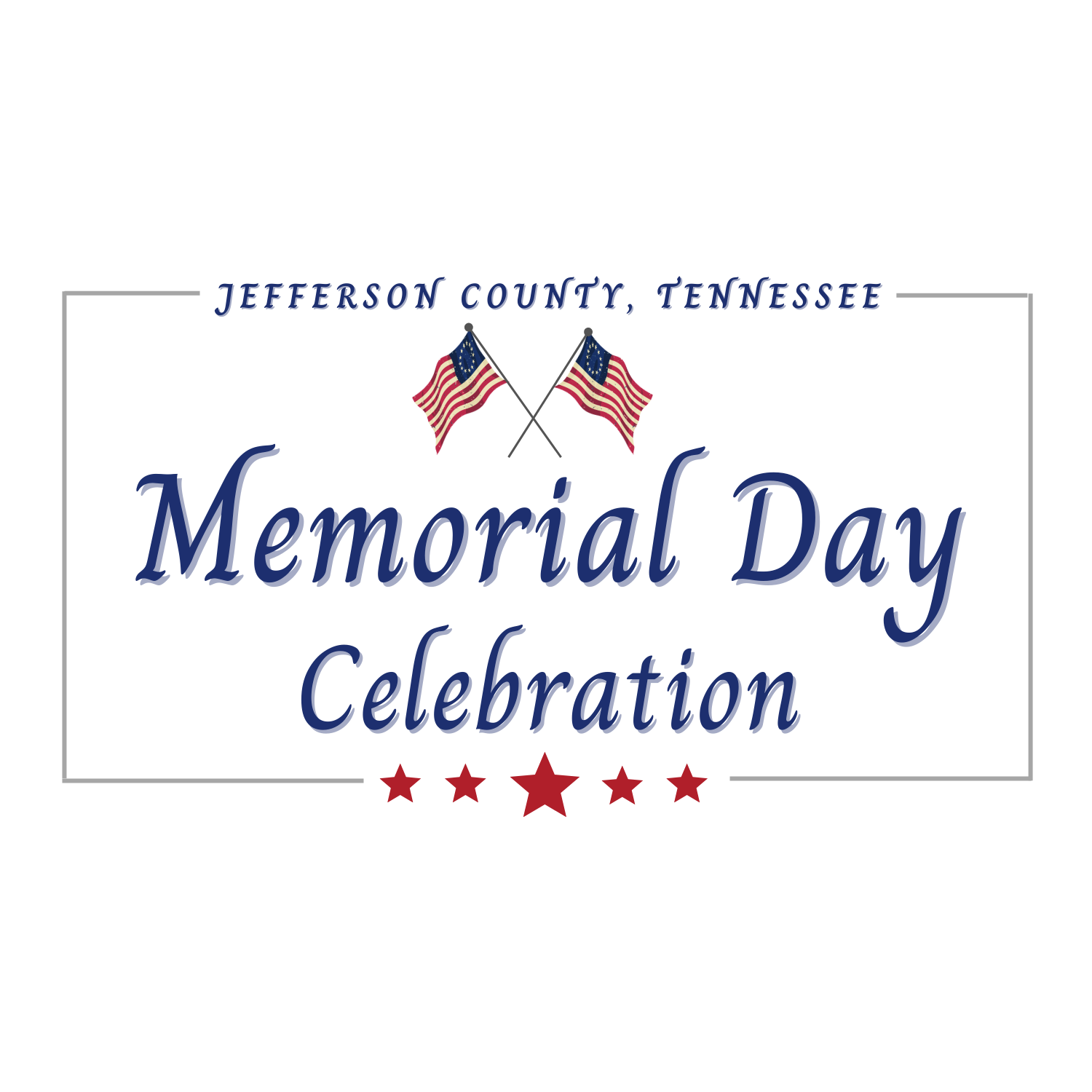 Memorial Day Event
Join us for a Memorial Day event honoring those who have paid the ultimate sacrifice for our freedoms.
Where: Jefferson County History Courthouse
When: May 30, 2022 from 10 AM – 11 AM
Presenting: JCHS JROTC, JCHS Marching Band, Pigeon Forge Honor Guard, Dandridge First United Methodist
Light refreshments will be served at Dandridge United Methodist Church following the ceremony.
Memorial Day is a day of national awareness and solemn reverence; a day for us to honor the military men and women who gave their lives in defense of our nation, its values and our freedom. Memorial Day gives us the opportunity to stop and think about brave Americans who made the ultimate sacrifice in defense of our great nation. Below are the names of those Service Members from Jefferson County who were killed in action in recent battles.  This list may not be all inclusive; if you have information of others, please contact Curtis Hudson at (865) 397-7824. 
Members of our community who were killed in action during WWI, WWII, Korean War, and Vietnam War.
WWI
Oby L Allen, Army

Frank H Bailey, Army
Robert L Brock, Army
John F Brown, Army
Marshall French, Army
Berton Davis Gann, Marines
William P Hickman, Army
John H Hill, Army
Wisdom Lee, Army
Howard T Mann, Army
Jacob Manning, Army
William A McMillan, Army
Ralph Nichols, Army
James L Reneau, Army
Sam W Renneau, Army
George C Rogers, Army
Estle R Skeen, Army
WWII
Burl W Ailey, Army

James C Bailey, Army
Alvin L Ballinger, Army
Marion A Batson, Army
Willis W Bettis, Army
John W Bills, Army
James O Black, Army
Raymond H Bolin, Army
Paul R Brewer, Army
Edward A Brinke, Army AF
Benjamin H Britt, Army
Charles A Brogden, Army
Paul Brooks
Doyle L Brown, Army
James L Cain, Army
George A Cannon, Army
Hugh J Carlisle, Army
James C Carmichael, Army
Melvin M Carter, Army
John Robert Cate, Army
Winford D Cate, Army
Tom Chrisman
John B Clevenger, Army
Thomas C Cockrum, Army
James C Coleman, Army
Gilbert N Couch Jr, Army
Houston N Cox, Army
William T Dalton, Army AF
Neil W Deniston, Army
Joseph Ellison
Arley B French, Army
Robert B Haworth, Army
James T Hayes, Army
Oliver L Heck, Army
Jack L Hill, Army
Halmond L Howard Jr, Army
Roy T Jaynes Jr, Army
George R Jenkins, Army
Claud Johnson, Army
Roy R Kanipe, Army
Urstle Keck
Luther W Keirsey, Army
John P Kerr, Army
William C Kimbrough, Army
Harold Lacy
William A Love, Army
George T Malone, Army AF
Earl H McCoig, Army
James C Morgan, Army
Thomas S Morie, Army
James Moyers
Ray T Murphy, Army
John F Murray, Army
George F Nelson, Army
Roy J Newman, Army
Glen S Oliver, Army
John Owen Jr.
Herman H Perkey, Army
Paul Pratt
Caslee E Pruitt, Army
Paul E Pruitt, Army
James F Rector, Army
James H Reese, Army
Willie G Reneau, Army
William Fred Repass, Army AF
William F. Repass
Charles E Rines, Army
Zack Romines, Army
Joseph A Shell, Army
Preston K Smith, Army
William H Smith, Army
Buford M Stallings
Willie L Stubbs, Army
Ira K Swaggerty, Army
Blair A Talley, Army
Thomas E Taylor, Army
Ralph Thomas, Army
Norman J Tipton, Army
James D Tracy, Army
John H Underwood, Army
James L Vance, Army
Clarence B Varnell, Army
James S Vaught, Army
Claude Vineyard, Army
John H Walston, Army
Lester B Webb, Army
Robert Y Wheeler, Army
William R Wiles, Army
Herbert G Williams, Army
KOREAN WAR 
ILT Allan Sheilds Bettis, Air Force

CPL Dennis Brock
PFC Jack A. Horner
PFC Burnett H. Ingram
PFC Tommy J. Johnson
PUT Raymonds Rines
VIETNAM WAR
PFC Mack Lemul France Jr, Army

ILT Ronald Harold Knight, Air Force
PFC William Larry Mott, Marines
CPL James Ronald Rainwater, Army
CPL James A. Russell III, Marines
PFC John William Watkins, Army